Northern Heartlands
Parades have returned to parts of County Durham that have suffered some hard knocks over the years.
Just before Christmas hundreds of people turned out in Dene Valley to see a parade of lanterns made by local schoolchildren and others.
The joyous response was captured on film along with these comments from spectators: "There used to be carnivals years ago when I was a kid and now I'm 54"; "Like it used to be"; "Absolutely wonderful."  The film can be seen here.
"It was a bit like The Man Engine," says Jill Cole, director of Northern Heartlands. "Grown men with tears in their eyes."
Ah, yes, The Man Engine. People will be talking about that for years to come.
Made in Cornwall by Golden Tree Productions, this metal giant, the largest mechanical puppet ever constructed in Britain, was brought to Willington in 2018.
It was part of a performance recalling the miners whose work, culture and communities shaped this place and others like it.
"It brought what I think was a broken community back together," remarked an audience member at the time.
The Man Engine is one of many inspiring projects initiated by Northern Heartlands from its office in Barnard Castle, where Jill explains how the organisation came to be – and how she came to be here.
Originally from Croydon, she moved to County Durham 31 years ago and started working in the arts in 1997 as maternity cover for Teesdale's arts development officer.
She joined the Castle Players in Barnard Castle and ended up running their youth theatre. Initially she hadn't expected to be in the county for long, but that was before she realised it was "the best place ever".
For 10 years she worked for Jack Drum Arts, in Crook, and then went freelance before taking a role at the Arts Council, which is when she encountered Heart of Teesdale Landscape Partnership, which took the arts seriously.
Its chair was Graham Young who was one of the founders of the Traidcraft Group and instrumental in setting up Fair Trade (and who is now chair of Northern Heartlands).
Jill remembers Graham and artist Ewan Allinson mounting a symposium called Artists, Farmers & Philosophers at the Bowes Museum.
"It was brilliant. It attracted so many different types of people and it felt like something. Building on that, it was Graham and Ewan who decided to put in a bid for the Great Place Scheme.
This was set up by Arts Council England and the Heritage Lottery Fund following the 2016 Culture White Paper. The plan was to invest £20 million over three years in 'great places' across the country.
Jill explains: "It involved heritage as well as art and it was about building confidence in people to change the way decision-making happened. It was managed by Heritage Lottery Fund and was a bit of a blank canvas."
Most applications to the scheme were by local authorities but Durham County Council wasn't bidding and the county, in any case, is huge.
The successful bid by Northern Heartlands (the name echoing the landscape partnership) related to three of the council's area action partnerships – Teesdale, Weardale and Three Towns, which is to say Crook, Willington and Tow Law.
Jill was lured from her Arts Council job to be director and the new organisation began with £1.8 million to invest during the life of the scheme, 2017-20.
This 'great place', though, incorporated wildly different places.
Compare Upper Teesdale, with its remote hill farms and rugged beauty, with the villages of the old Durham coalfield that were once dubbed Category D and scheduled for demolition.
Furious opposition halted that controversial County Durham scheme because people had put down roots in those places. Many of the surviving villages, though, suffer from high unemployment.
"The opportunity to get to the heart of these different communities and listen to people, find out what the issues were and create something was an absolute gift," insists Jill.
"But three years was nothing. You've just decided what you're doing and you're writing your exit strategy."
The decision was made, not without some trepidation, to keep Northern Heartlands going as an independent charity, which explains why Jill and her small team remain together.
Planned live performances at Locomotion, the railway museum at Shildon, fell victim to the pandemic but a filmed version was made available online.  It was ambitious and extraordinary. It was, according to Richard Mantle, general director of Opera North, "a testament to the creative potential that can be released when a large-scale arts company… works together in a truly collaborative spirit with an entire community".
Most Northern Heartlands work is neither large-scale nor headline-grabbing, although it is no less transformative for that.
Jill introduces me to the concept of social prescribing, a response to more and more people going to their GP not with a medical condition but because they are lonely or have issues at home.
The idea is that rather than medication being prescribed, people can be directed to some sort of social gathering or activity.
Jill recalls being asked to make presentations to health practitioners about The Man Engine and how it "made people feel happier by getting involved in their communities".
A new National Academy for Social Prescribing (Baroness Tanni Grey-Thompson is a trustee) was established in October 2019 and its workload won't have been diminished by the pandemic.
Jill says people in her field already knew about the physical and mental benefits of creativity and communal activity because they have seen them many times.
She describes a planting project in Dene Valley, inspired by the organisation Incredible Edible, and the range of social prescribing activities, including art and craft, singing, pottery, tai chi and countryside walks, which Northern Heartlands helps to sustain.
Partner organisations include Jack Drum Arts, Upper Teesdale Agricultural Support Services, based in Middleton-in-Teesdale, and Barnard Castle-based Teesdale Community Resources.
"You need to get people involved in doing stuff," says Jill. "It's a way of bringing communities together."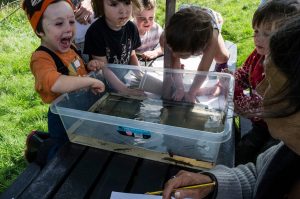 There is to be much more of that now Northern Heartlands is here to stay.
Funding has been secured for an 18-month project in Willington, building on the success of The Man Engine, and there's a new environmental project in Upper Teesdale that Northern Heartlands is involved in.
"There are still communities we haven't worked with," says Jill. "There are so many different things we want to do."
Where other Great Place Scheme projects were wound up, Northern Heartlands goes from strength to strength. And Jill's happy.
"I wouldn't want to do anything else," she says. "I love my job."
More information about Northern Heartlands can be found on its website which can be seen here.